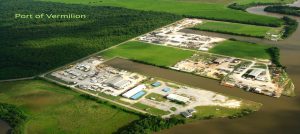 The Port of Vermilion was established in the mid eighties by the Abbeville Harbor & Terminal District to accommodate growing demand for water front sites for industrial locations. Since then it has seen the oil industry boom and bust, with resident companies coming and going over the years. Today the port is a diverse and growing terminal that provides considerable economic value to the district, which extends parish-wide.
The port is located at the intersection of LA HWY 690 and the Vermilion River, five miles south of Abbeville, Louisiana (coordinates -92.118773, 29.894085). With a maximum controlling depth of 12 feet, the port provides a protected docking area for vessels navigating the Gulf Intracoastal Waterway (GIWW) and Freshwater Bayou Channel.
This location puts the port in a strategic position to take advantage of significant cargo flows and marine traffic on both waterways. Currently, the port is home to six companies that provide various inland and offshore oil and gas support services, as well as a US Coast Guard patrol unit. The Port's mission is to create quality jobs and to be an economic engine for the District and Vermilion Parish.
Configuration
The Port property encompasses approximately 100 acres divided into 21 land tracts, each averaging four acres with 200-300 feet across of waterfront. Each site is equipped with wastewater and electricity lines that are readily accessible, as well as telephone and wireless Internet. There are two partially bulk headed inland slips, 200 feet wide with 12-ft draft. The roads accessing the port are all-weather hard surfaced.
Access
By Road…
The port is accessible via state LA Highway 690 to LA Highway 82. It is five miles to the Abbeville Memorial Airport, and five miles to short line railroad, LA and Delta Rail.
By Waterway…
Vessels travel eight miles from the Port to reach the Intracoastal Waterway.
Resources